18 Beautiful Quotes about Comfort
People today need a lot of comfort. And so did people in Biblical times. There has always been trouble and discomfort in this world, but God gives us assurance that we can have comfort and peace. I pray that these quotes give you comfort and peace!
18
You don't have to be alone in your hurt! Comfort is yours. Joy is an option. And it's all been made possible by your Savior. He went without comfort so you might have it. He postponed joy so you might share in it. He willingly chose isolation so you might never be alone in your hurt and sorrow.
- Joni Eareckson Tada
17
Oh, how very kind and good my heavenly Father has been to me! I have no aches or pains, no rheumatism, and now in my ninety-third year I can do a day's work at the orphan houses with as much ease and comfort to myself as ever.
- George Mueller
16
Great comforts do, indeed, bear witness to the truth of thy grace, but not to the degree of it; the weak child is oftener in the lap than the strong one.
- William Gurnall
15
Comfort, comfort my people, says your God.
- Isaiah 40:1
14
You will increase my greatness and comfort me again.
- Psalm 71:21
13
How comfortable it is to have One, day and night, before the throne to control the charge of our enemy, and the despondencies of our souls.
- Stephen Charnock
12
You may readily judge whether you are a child of God or a hypocrite by seeing in what direction your soul turns in seasons of severe trial. The hypocrite flies to the world and finds a sort of comfort there. But the child of God runs to his Father and expects consolation only from the Lord's hand.
- Charles Spurgeon
11
In the midst of the awesomeness, a touch comes, and you know it is the right hand of Jesus Christ. You know it is not the hand of restraint, correction, nor chastisement, but the right hand of the Everlasting Father. Whenever His hand is laid upon you, it gives inexpressible peace and comfort, and the sense that "underneath are the everlasting arms," (Deuteronomy 33:27) full of support, provision, comfort and strength.
- Oswald Chambers
10
Prayer crowns God with the honor and glory due to His name, and God crowns prayer with assurance and comfort. The most praying souls are the most assured souls.
- Thomas Brooks
9
One way to get comfort is to plead the promise of God in prayer, show Him His handwriting; God is tender of His Word.
- Thomas Manton
8
Blessed be the God and Father of our Lord Jesus Christ, the Father of mercies and God of all comfort, who comforts us in all our affliction, so that we may be able to comfort those who are in any affliction, with the comfort with which we ourselves are comforted by God. For as we share abundantly in Christ's sufferings, so through Christ we share abundantly in comfort too.
- 2 Corinthians 1:3-5
7
Snuggle in God's arms. When you are hurting, when you feel lonely, left out. let Him cradle you, comfort you, reassure you of His all-sufficient power and love.
- Kay Arthur
6
Assurance is the fruit that grows out of the root of faith.
- Stephen Charnock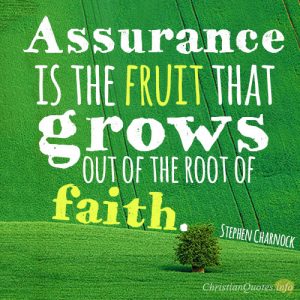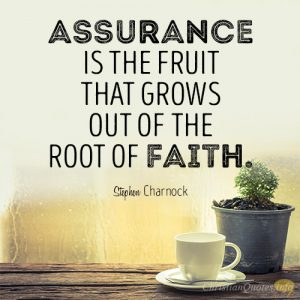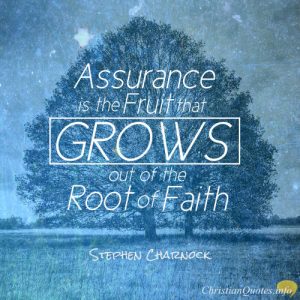 5
Never be afraid to trust an unknown future to a known God.
- Corrie Ten Boom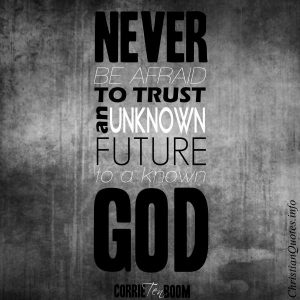 4
It is our privilege to know that we are saved.
- Dwight L. Moody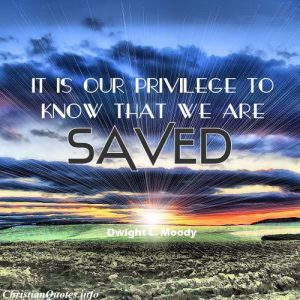 3
In the darkest of nights cling to the assurance that God loves you, that He always has advice for you, a path that you can tread and a solution to your problem--and you will experience that which you believe. God never disappoints anyone who places his trust in Him.
- Basilea Schlink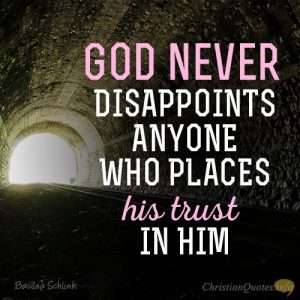 2
casting all your anxieties on him, because he cares for you.
- 1 Peter 5:7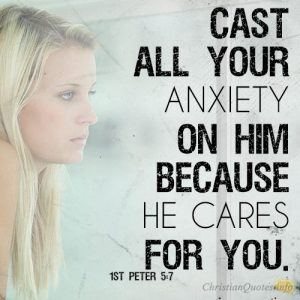 1
Even though I walk through the valley of the shadow of death, I will fear no evil, for you are with me; your rod and your staff, they comfort me.
- Psalm 23:4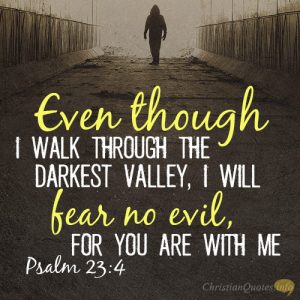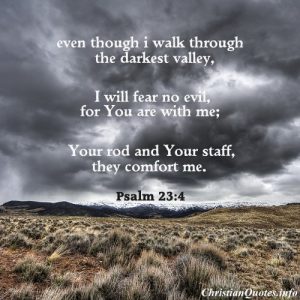 Total Quotes Found: 18
Get the Daily Quote in FB Messenger
Just click the button below and follow the instruction we send you.