World's Top 18 Bible Verses About God's Love
God's never failing love takes many forms throughout scripture and the entire Bible is like a love letter written to us. Bible Verses about God's Love are plentiful but we compiled the Worlds Top 18 Bible Verses about God's Love just for you.
The Love of God is frequently referred to in the Bible as divine, true and everlasting. God's unconditional love surrounds us every day and is always there to comfort us.
Take a few minutes to meditate on 18 of the top Bible verses about the love of God and ask the Lord to show you how to project His love to others in your life.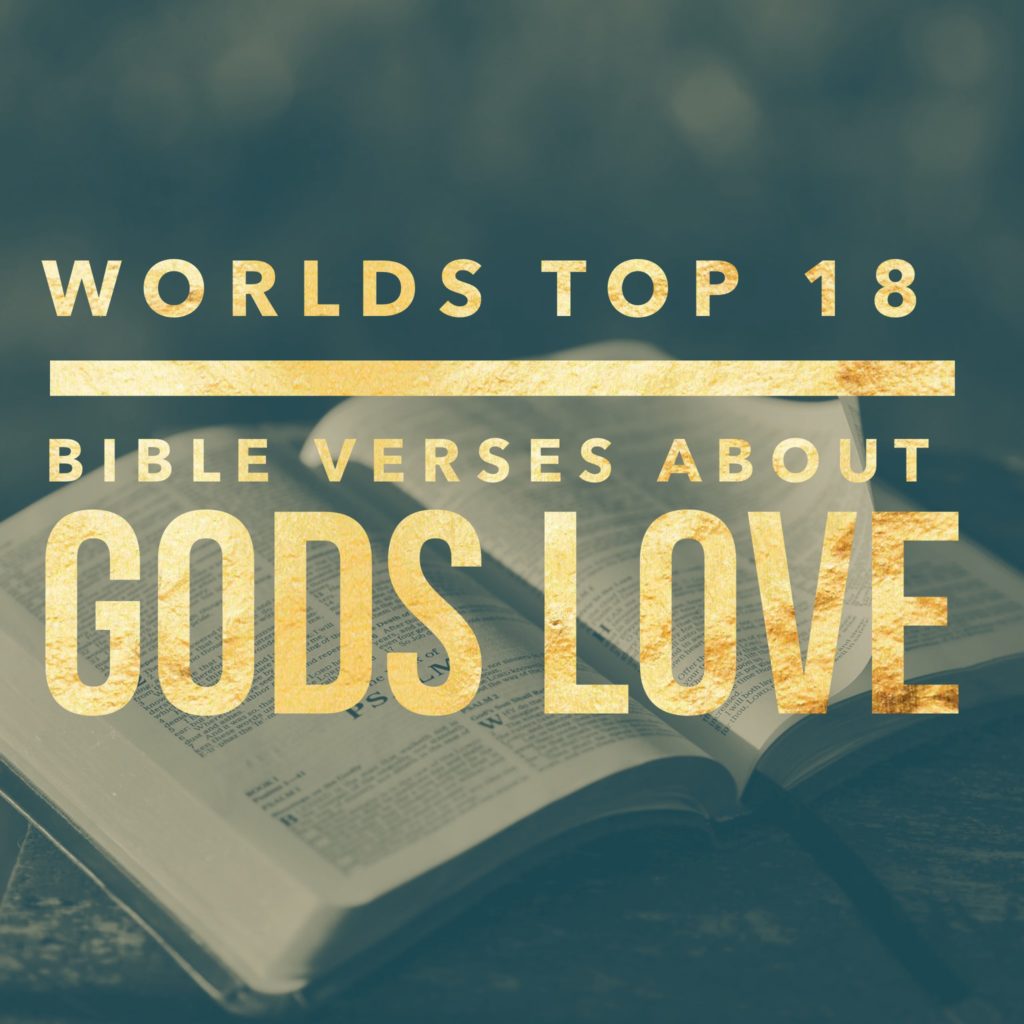 5 Bible Stories About God's Love
What more could God give for us to be reconciled back to Him than His only Son…the sinless Son of God?  This proved that "God so loved the world, that he gave his only Son, that whoever believes in him should not perish but have eternal life" (John 3:16). God desires that none should perish (1 Timothy 2:4; 2 Peter 3:9), and He was willing to give His one and only Son to keep us from perishing. God is a giver.
God Shows His Love (Romans 5)
It's easy to love those we know, love, or like, but try loving someone who's your enemy, but that's just what God did, as Paul writes that "God shows his love for us in that while we were still sinners, Christ died for us" (Romans 5:8). Even more so, while we were ungodly enemies of His, He still set His love upon us (Rom 5:6, 10).
God Made the First Move (1 John 4)
None of us can biblically say that we loved God first. The truth is, "We love because he first loved us" (1 John 4:19).  God made the first move…loving us first, so that's the only reason we love God. He had to change our heart toward having affection for Him…otherwise we would have never loved God.
The Children of God (1 John 3)
The children of God are created by the Spirit of God for the glory of God, and we can know that we are His child. John tells us, "See what kind of love the Father has given to us, that we should be called children of God; and so we are. The reason why the world does not know us is that it did not know him" (1 John 3:1). I would rather be loved by God than loved by the world. The world's passing away, but the children of God have eternal life and shall never perish.
Knowing His Love (1 John 4)
Once we are born again, then read His Word, we can finally understand or "come to know and to believe the love that God has for us. God is love, and whoever abides in love abides in God, and God abides in him" (1 John 4:16).  We cannot claim to be a child of God if we don't love the children of God because whoever abides in love abides in God." It's just that simple.
Share God's Love Today!
God's love is never failing and immeasurable and is best displayed on the cross of Christ. Jesus paid the ultimate price and gave the greatest gift of love ever given. We should rejoice and thank God for this gift of love and everlasting life.
Not to us, O Lord, not to us, but to your name give glory, for the sake of your steadfast love and your faithfulness!  ~Psalms 115:1
Please feel free to share the world's top 18 Bible verses about God's love, because today, we need to hear about the love of God more than ever.
If you enjoyed these scriptures, don't stop reading now, check out these popular articles!
12 Bible Verses for those Suffering from Anxiety and Stress
World's Best 10 Bible Verses to Read When You're Fearful
Get the Daily Quote in FB Messenger
Just click the button below and follow the instruction we send you.