World's Best 12 Bible Verses To Read When You're Fearful
There is so much in this world that can cause fear to creep up in our lives. Almost everyone I know has faced a time when they were fearful or worried about something. When those times come to you, please remember these world's best 10 Bible verses to read when you're fearful. They should give you what only the Word of God can give you…a peace of mind.
Take comfort and find peace in the following World's best 12 Bible verses to read when you're fearful.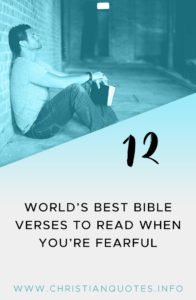 5 Stories From The Bible About Being Fearful
There are a lot of things to fear in this world; the future, finances, cancer, and death, but Isaiah gives us a command to "Fear not, for I am with you; be not dismayed, for I am your God; I will strengthen you, I will help you, I will uphold you with my righteous right hand" (Isaiah 41:10). Imagine you're walking down a dark alley at night and you see a group of men walking toward you…you'd be frightened, right? Now imagine walking down that same dark alley, but the Lord God is walking with you. Would you be afraid anymore? Likely not.
We have no real power outside of that given which is to us by Jesus Christ (Philippians 4:13). His Spirit should give us confidence and assurance, because "God gave us a spirit not of fear but of power and love and self-control" (2 Timothy 1:7). There is the very power of God we can access when we are fearful…but we must believe.
Whoever loves God, only loves God because He first loved us (1 John 4:19), and "There is no fear in love, but perfect love casts out fear. For fear has to do with punishment, and whoever fears has not been perfected in love" (1 John 4:18). Since Jesus Christ took our punishment at the cross, we have no more need to fear God's wrath…that's why we can cast out all fear when we put our trust in Christ, and no longer fear the judgment of God.
Delivered from Fear – Psalm 34
Fear can immobilize us; it can make us fall away from God; and it can make us shrink back from taking any risks, but when troubles come that you can't do anything about, fear can rise up its ugly head. So what's the Psalmist advise us to do when we fear? He says, "I sought the Lord, and he answered me and delivered me from all my fears" (Psalm 34:4). He will deliver us from fear…fears of the unknown, troubles, and trials, but you must seek Him. God makes deliveries…delivering us from all our fears. And "all" means all!
I think fear of mankind is like a steel trap. When it clamps down on us, we cannot easily free ourselves. Our own fears place us in such a snare, but trust destroys the snare. Solomon wrote, "The fear of man lays a snare, but whoever trusts in the Lord is safe" (Proverbs 29:25).
Share these Verses with Someone Today
If we've trusted in Christ, there is never again any need to fear…but if not, there is every reason to.
I hope you liked these world's best 10 Bible verses to read when you're fearful, and if you did, and you know someone who battles with fear, please share these with them right now.
Worlds 10 Best Bible Verses about Hope in Comforting Images
12 Bible Verses for Those Suffering with Anxiety and Stress
Get the Daily Quote in FB Messenger
Just click the button below and follow the instruction we send you.