Top 25 Christian Quotes About Love
25

To love someone means to see him as God intended him
24

You can always give without loving, but you can never love without giving.
23

Being loved is life's second greatest blessing; loving is the greatest.
22

Nothing can bring a real sense of security into the home except true love.
21

Where Love is, God is.
20

The best use of life is love. The best expression of love is time. The best time to love is now.
19

God teaches us to love by putting some unlovely people around us. It takes no character to love people who are lovely and loving to you.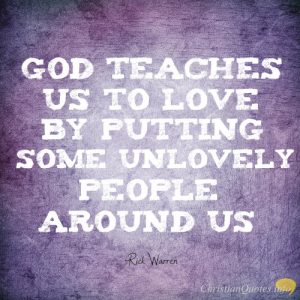 18

Love is the doorway through which the human soul passes from selfishness to service.
17

You will never really love until you love someone who hates you.
16

The chains of love are stronger than the chains of fear.
15

Everything God does is love — even when we do not understand Him.
14

Love is not only something you feel, it is something you do.
13

Since love grows within you, so beauty grows. For love is the beauty of the soul.
12

Learning to love unselfishly is not an easy task. It runs counter to our self-centered nature.
11

Do not waste time bothering whether you "love" your neighbor; act as if you did.
10

In the New Testament, love is more of a verb than a noun. It has more to do with acting than with feeling. The call to love is not so much a call to a certain state of feeling as it is to a quality of action.
9

In biblical thinking, genuine love exists only when good works are done in a context where God rather than the doer gets the credit.
8

Love is a gift of God.
7

If we have got the true love of God shed abroad in our hearts, we will show it in our lives. We will not have to go up and down the earth proclaiming it. We will show it in everything we say or do.
6

The world does not understand theology or dogma, but it understands love and sympathy.
5

I cannot love you as I love myself until I love God as I ought to love Him.
4

Faith makes all things possible… love makes all things easy.
3

What does love look like? It has the hands to help others. It has the feet to hasten to the poor and needy. It has eyes to see misery and want. It has the ears to hear the sighs and sorrows of men. That is what love looks like.
2

Though we cannot think alike may we not love alike?
1

The world is not a play-ground; it is a school-room. Life is not a holiday, but an education. And the one eternal lesson for us all is how better we can love.
Get the Daily Quote in FB Messenger
Just click the button below and follow the instruction we send you.