17 Bible Quotes to Remind Us to Share the Good News
Jesus commanded us to share the Good News. But sometimes it's not as easy as it might seem. Sometimes we struggle with fear, embarassement, or just plain forgetfulness as we get caught up in doing other things. I hope that these verses help remind you to always be thinking about how to share the love of Jesus.
17
Him we proclaim, warning everyone and teaching everyone with all wisdom, that we may present everyone mature in Christ.
- Colossians 1:28
16
But for this purpose I have raised you up, to show you my power, so that my name may be proclaimed in all the earth.
- Exodus 9:16
15
and he sent them out to proclaim the kingdom of God and to heal.
- Luke 9:2
14
And he said to them, "Go into all the world and proclaim the gospel to the whole creation.
- Mark 16:15
13
Sing praises to the LORD, who sits enthroned in Zion! Tell among the peoples his deeds!
- Psalm 9:11
12
O God, from my youth you have taught me, and I still proclaim your wondrous deeds.
- Psalm 71:17
11
This is the message we have heard from him and proclaim to you, that God is light, and in him is no darkness at all.
- 1 John 1:5
10
You are the salt of the earth. But if the salt loses its saltiness, how can it be made salty again? It is no longer good for anything, except to be thrown out and trampled underfoot. You are the light of the world. A town built on a hill cannot be hidden. Neither do people light a lamp and put it under a bowl. Instead they put it on its stand, and it gives light to everyone in the house. In the same way, let your light shine before others, that they may see your good deeds and glorify your Father in heaven.
- Matthew 5:13-16
9
saying, "I will tell of your name to my brothers; in the midst of the congregation I will sing your praise."
- Hebrews 2:12
8
And this gospel of the kingdom will be proclaimed throughout the whole world as a testimony to all nations, and then the end will come.
- Matthew 24:14
7
So have no fear of them, for nothing is covered that will not be revealed, or hidden that will not be known. What I tell you in the dark, say in the light, and what you hear whispered, proclaim on the housetops.
- Matthew 10:26-27
6
Therefore encourage one another and build one another up, just as you are doing.
- 1 Thessalonians 5:11
5
For the word of God is living and active, sharper than any two-edged sword, piercing to the division of soul and of spirit, of joints and of marrow, and discerning the thoughts and intentions of the heart.
- Hebrews 4:12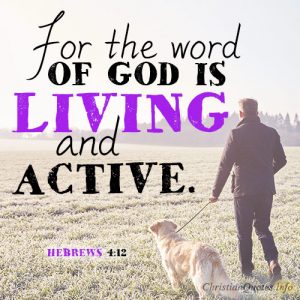 4
Therefore, since we are surrounded by so great a cloud of witnesses, let us also lay aside every weight, and sin which clings so closely, and let us run with endurance the race that is set before us,
- Hebrews 12:1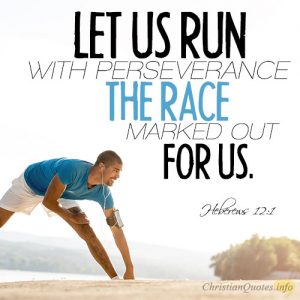 3
For we are his workmanship, created in Christ Jesus for good works, which God prepared beforehand, that we should walk in them.
- Ephesians 2:10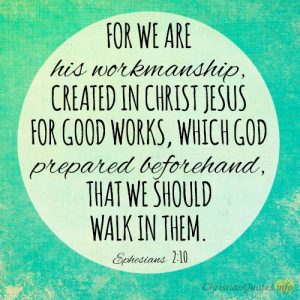 2
But the Lord stood by me and strengthened me, so that through me the message might be fully proclaimed and all the Gentiles might hear it. So I was rescued from the lion's mouth. The Lord will rescue me from every evil deed and bring me safely into his heavenly kingdom. To him be the glory forever and ever. Amen.
- 2 Timothy 4:17
1
For the wages of sin is death, but the free gift of God is eternal life in Christ Jesus our Lord.
- Romans 6:23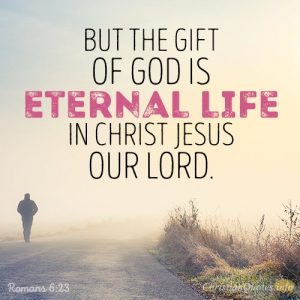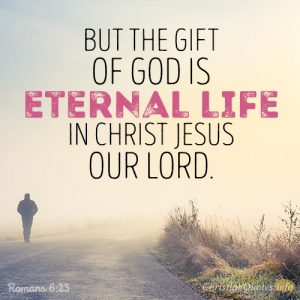 Total Quotes Found: 17
Be encouraged to share God's love and the Good News of Jesus!
Get the Daily Quote in FB Messenger
Just click the button below and follow the instruction we send you.