World's Best 16 Bible Verses About Having Faith In Hard Times
A lot of people are living through hard times right now, and it's probably not going to get any better, so how does their faith help them hold on during the hard times? Here are 16 Bible verses that might explain how they can hold onto their faith, even in hard times.
16

Blessed is the man who remains steadfast under trial, for when he has stood the test he will receive the crown of life, which God has promised to those who love him.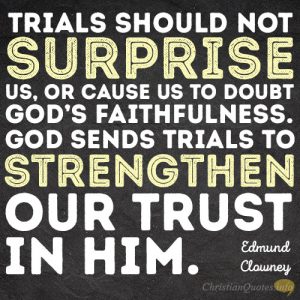 15

He has delivered us from the domain of darkness and transferred us to the kingdom of his beloved Son, in whom we have redemption, the forgiveness of sins.
14

And I am sure of this, that he who began a good work in you will bring it to completion at the day of Jesus Christ.
13

But I am not ashamed, for I know whom I have believed, and I am convinced that he is able to guard until that day what has been entrusted to me.
12

Know therefore that the Lord your God is God, the faithful God who keeps covenant and steadfast love with those who love him and keep his commandments, to a thousand generations.
11

Now faith is the assurance of things hoped for, the conviction of things not seen.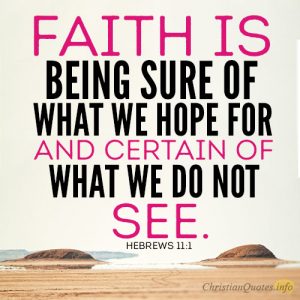 10

In this you rejoice, though now for a little while, if necessary, you have been grieved by various trials, so that the tested genuineness of your faith—more precious than gold that perishes though it is tested by fire—may be found to result in praise and glory and honor at the revelation of Jesus Christ.
9

Jesus said to him, Have you believed because you have seen me? Blessed are those who have not seen and yet have believed.
8

For everyone who has been born of God overcomes the world. And this is the victory that has overcome the world—our faith.
7

But we are not of those who shrink back and are destroyed, but of those who have faith and preserve their souls.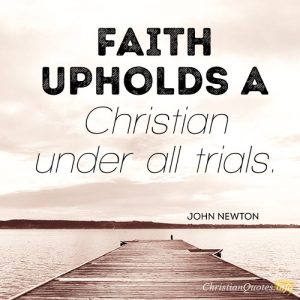 6

For I consider that the sufferings of this present time are not worth comparing with the glory that is to be revealed to us.
5

[God] will sustain you to the end, guiltless in the day of our Lord Jesus Christ.
4

Call upon me in the day of trouble; I will deliver you, and you shall glorify me.
3

Though you have not seen him, you love him. Though you do not now see him, you believe in him and rejoice with joy that is inexpressible and filled with glory, obtaining the outcome of your faith, the salvation of your souls.
2

Truly, I say to you, if you have faith and do not doubt, you will not only do what has been done to the fig tree, but even if you say to this mountain, 'Be taken up and thrown into the sea,' it will happen.
1

And he said to them, "Why are you afraid, O you of little faith?" Then he rose and rebuked the winds and the sea, and there was a great calm.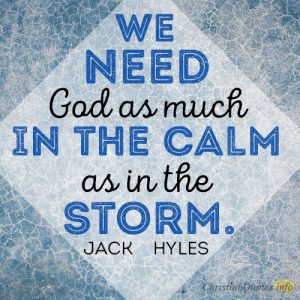 It's easy to just give up, but God never gives up on us so we must remain faithful, even in hard times, so I hope these have helped solidify your faith, and if so, why not share these with someone else who might need a spiritual boost from the Word of God because we'll all need to keep the faith during the hard times this world throws at us.
Get the Daily Quote in FB Messenger
Just click the button below and follow the instruction we send you.