Top 15 Bible Verses and Quotes About Feeling Defeated
If you've ever been defeated, or felt defeated, these 15 Bible verse quotes should help build you back up.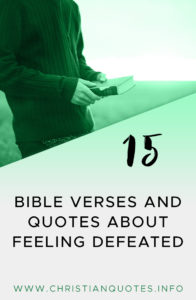 5 Stories From The Bible About Feeling 
Defeated
Here are 5 stories from the Bible about feeling defeated.
Crucified for Us
When those around the cross saw Jesus dying in such a horrible and shameful way, they thought it was the end of this "religious sect," but it was just the beginning.  What looked like an epic fail for Jesus and His followers ended up being the greatest triumph of all, "For God so loved the world, that he gave his only Son, that whoever believes in him should not perish but have eternal life" (John 3:16).
More than Conquerors
We cannot overcome sin or the world without the Spirit of God, but that victory was ultimately brought about by Christ, so when you're defeated or just feeling that way, remember that "in all these things we are more than conquerors through him who loved us" (Romans 8:37). Now, nothing can separate us from God again (Rom 8:38-39).
Victory through Christ
If Christ had not conquered the grave, we'd have no hope of the resurrection, but Jesus' victory over the grave brought us victory over death, so we should praise God and say, "thanks be to God, who gives us the victory through our Lord Jesus Christ" (1 Corinthians 15:56).  This was a battle we had no hope of winning except for Christ, but even if we're defeated in something, we have ultimate victory coming.
Born of God
If you've been born again, you no longer have any fear of God's judgment.  Your sins were atoned for in Jesus Christ, and that was a greater victory than any human sporting event, including the Super Bowl, "For everyone who has been born of God overcomes the world. And this is the victory that has overcome the world—our faith" (1 John 5:4). I know God won't let His very own children fail
Defeated

 Enemies

We do not fight for victory but from victory.  Today, Satan and his minions are still having some skirmishes with believers, and we're still in a spiritual war, but in time, "The Lord will cause your enemies who rise against you to be defeated before you. They shall come out against you one way and flee before you seven ways" (Deuteronomy 28:7).

Everyone's felt defeated at one time or another, including me, so I hope these 15 Bible verse quotes has encouraged you. Maybe you can share these with someone whose feeling a little defeated right now.
Get the Daily Quote in FB Messenger
Just click the button below and follow the instruction we send you.