Top 14 Bible Verses About Raising Children
The Bible has a lot to say about raising children, and so here are the top 14 Bible verses about raising children found in Scripture.
14
But he said to them, "Not everyone can receive this saying, but only those to whom it is given.
- Matthew 19:11
13
I am reminded of your sincere faith, a faith that dwelt first in your grandmother Lois and your mother Eunice and now, I am sure, dwells in you as well.
- 2 Timothy 1:5
12
At that time Jesus declared, "I thank you, Father, Lord of heaven and earth, that you have hidden these things from the wise and understanding and revealed them to little children;
- Matthew 11:25
11
We will not hide them from their children, but tell to the coming generation the glorious deeds of the LORD, and his might, and the wonders that he has done.
- Psalm 78:4
10
Whoever spares the rod hates his son, but he who loves him is diligent to discipline him.
- Proverbs 13:24
9
Fathers, do not provoke your children to anger, but bring them up in the discipline and instruction of the Lord.
- Ephesians 6:4
8
You shall teach them diligently to your children, and shall talk of them when you sit in your house, and when you walk by the way, and when you lie down, and when you rise.
- Deuteronomy 6:7
7
If you then, who are evil, know how to give good gifts to your children, how much more will your Father who is in heaven give good things to those who ask him!
- Matthew 7:11
6
Fathers, do not provoke your children, lest they become discouraged.
- Colossians 3:21
5
Discipline your son, and he will give you rest; he will give delight to your heart.
- Proverbs 29:17
4
and said, "Truly, I say to you, unless you turn and become like children, you will never enter the kingdom of heaven.
- Matthew 18:3
3
Do not withhold discipline from a child; if you strike him with a rod, he will not die.
- Proverbs 23:13
2
Folly is bound up in the heart of a child, but the rod of discipline drives it far from him.
- Proverbs 22:15
1
Train up a child in the way he should go; even when he is old he will not depart from it.
- Proverbs 22:6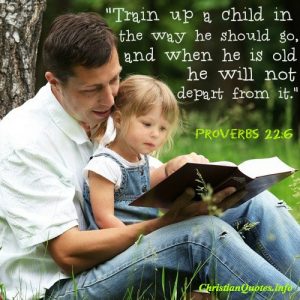 Total Quotes Found: 14
We are commanded to teach our children, so maybe these top 14 Bible verses about raising children will be a help to you. And please share these with someone else who has children or grandchildren.
Get the Daily Quote in FB Messenger
Just click the button below and follow the instruction we send you.