Top 13 Bible Verses To Read In The Morning
It's important to start your day off right by reading the Word of God, and to help you do that, here are the top 13 Bible verses to read in the morning, in the hopes that you'll have a better day today.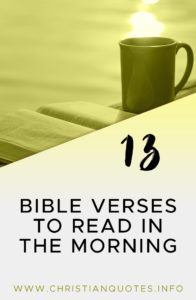 5 Stories From The Bible To
Read

In The

Morning

Here are 5 stories from the Bible to read in the morning.
Day by Day
One of the greatest things about waking up in the morning is…waking up in the morning! That is, we should rejoice that God's given us another day to do things for His glory, so praise the Lord for this and every morning and declare, "This is the day that the Lord has made; let us rejoice and be glad in it" (Psalm 118:24).
Morning

by

Morning

Mornings are one of the best times to have your daily bread. When we get into the Word of God in the morning, the Word of God stays with us past morning. Our God good has given us another day, and "Morning by morning he awakens; he awakens my ear to hear as those who are taught" (Isaiah 50:4b). Prayers and Bible reading are two great legs to stand on today and every day, but start in the morning, and then stay in the Word, morning by morning.
From the Hand of God
God has blessed us with great spiritual and physical blessings. If we realized that most of us are far richer than the average person in the world, we'd praise God more often. Those who have little still praise Him for what little they have, so "There is nothing better for a person than that he should eat and drink and find enjoyment in his toil. This also, I saw, is from the hand of God" (Ecclesiastes 2:24).
Always Before Us
If you set the Word of God before you in the morning and every morning, it's like taking the Lord with you, or having Him go before you into the world. The psalmist had great wisdom but only because He loved God's Word, and could say, "I have set the Lord always before me; because he is at my right hand, I shall not be shaken" (Psalm 16:8).
Quieted by His Love
God spoke about His chosen people to Zephaniah the Prophet, saying that "The Lord your God is in your midst, a mighty one who will save; he will rejoice over you with gladness; he will quiet you by his love; he will exult over you with loud singing" (Zephaniah 3:17). That sounds like God is rejoicing over His people and quieting them by His unwavering love, so would He do any less for those who have trusted in His Son, Jesus Christ?
If you enjoyed these top 13 Bible verses to read in the morning, please share them with a friend so that they can start their day off on the Bread of Life, or the Word of God.
Get the Daily Quote in FB Messenger
Just click the button below and follow the instruction we send you.