19 Amazing Quotes about Living by Faith
Faith – it's all about what we cannot see. We believe in God by faith and we get saved by faith. But sometimes the hardest part of faith is living through hardships day by day when we can't see a way out. But we can trust God – by faith – to be always with us.
19

Let us fix our eyes on Jesus, the author and perfecter of our faith.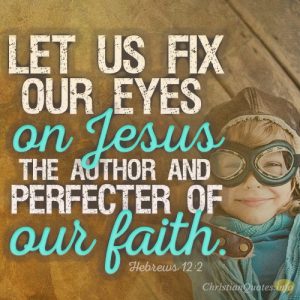 18

Faith looks not at what happens to him but at Him Whom he believes.
17

Faith and works are bound up in the same bundle. He that obeys God trusts God; and he that trusts God obeys God. He that is without faith is without works; and he that is without works is without faith.
16

He said to them, "Because of your little faith. For truly, I say to you, if you have faith like a grain of mustard seed, you will say to this mountain, 'Move from here to there,' and it will move, and nothing will be impossible for you."
15

Faith upholds a Christian under all trials, by assuring him that every painful dispensation is under the direction of his Lord.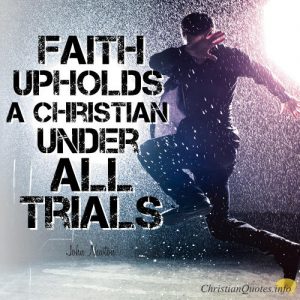 14

Faith is trust or commitment to what you think is true.
13

The issue of faith is not so much whether we believe in God, but whether we believe the God we believe in.
12

If you are not firm in faith, you will not be firm at all.
11

Faith is not something that goes against the evidence, it goes beyond it.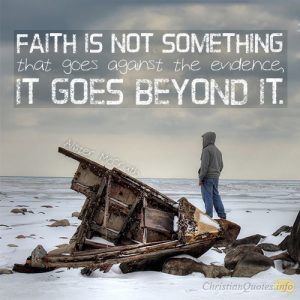 10

The steps of faith fall on the seeming void, but find the rock beneath.
9

I believe the promises of God enough to venture an eternity on them.
8

Love the Lord, all you his saints! The Lord preserves the faithful but abundantly repays the one who acts in pride.
7

Faith is a living and unshakable confidence, a belief in the grace of God so assured that a man would die a thousand deaths for its sake.
6

Faith is the willingness to risk anything on God.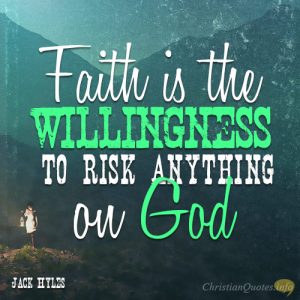 5

Faith is like radar that sees through the fog-the reality of things at a distance that the human eye cannot see.
4

God has been good and He will continue to manifest His goodness. Let us approach these days expecting to see the goodness of the Lord manifest. Let us be strong and of good courage, for the Lord will fight for us if we stand in faith.
3

Seek not to understand that you may believe, but believe that you may understand.
2

Faith never knows where it is being led, but it loves and knows the One who is leading.
1

Now faith is the assurance of things hoped for, the conviction of things not seen.
Get the Daily Quote in FB Messenger
Just click the button below and follow the instruction we send you.