18 Powerful Quotes about Giving and Receiving
It may be more blessed to give than to receive, but God wants us to do both. After all, how can we give something if we don't first receive it to give? To better illustrate the process of giving and receiving, here are some quotes and verses from godly men and women.
18

God has a way of giving by the cartloads to those who give away by shovelfuls.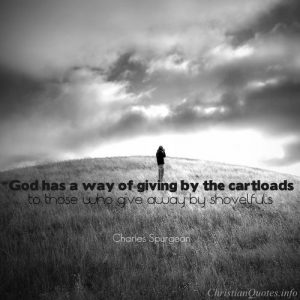 17

You can give without loving, but you cannot love without giving.
16

Give, and it will be given to you. Good measure, pressed down, shaken together, running over, will be put into your lap. For with the measure you use it will be measured back to you.
15

Lord, if You bless me, I'll thank You; but if You don't, I'll be thankful for what I have.
14

God is always trying to give good things to us, but our hands are too full to receive them.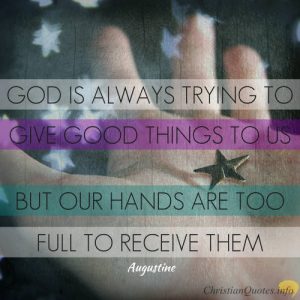 13

Hold material goods and wealth on a flat palm and not in a clenched fist.
12

The wicked borrows but does not pay back, but the righteous is generous and gives
11

A lack of generosity refuses to acknowledge that your assets are not really yours, but God's.
10

In this world it is not what we take up, but what we give up, that makes us rich.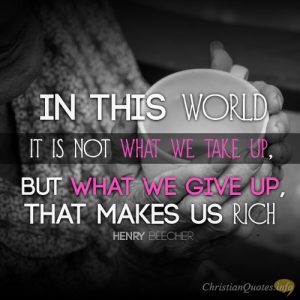 9

Our giving is but a reflex of God's giving.
8

For in a severe test of affliction, their abundance of joy and their extreme poverty have overflowed in a wealth of generosity on their part. For they gave according to their means, as I can testify, and beyond their means
7

Generosity is impossible apart from our love of God and of His people. But with such love, generosity not only is possible but inevitable.
6

The world asks, 'What does a man own?' Christ asks, 'How does he use it?'
5

Get all you can, save all you can and give all you can.
4

The most obvious lesson in Christ's teaching is that there is no happiness in having or getting anything, but only in giving.
3

Faith is two empty hands held open to receive all of the Lord.
2

The point is this: whoever sows sparingly will also reap sparingly, and whoever sows bountifully will also reap bountifully.
1

The more you give, the more comes back to you, because God is the greatest giver in the universe, and He won't let you outgive Him. Go ahead and try. See what happens.
I hope this collection of quotes has given you deeper insight into our giving God and how we can be more like Him!
Get the Daily Quote in FB Messenger
Just click the button below and follow the instruction we send you.