16 Bible Quotes about Faith and Financial Security
Financial security is something that almost everything thinks about at one time or another. Whether you want to be rich, or just have enough to live comfortably, no one wants to live life broke or in poverty. And God doesn't want us to, either. God promised that He would take care of His people, and that includes taking care of us in the financial system of this world. Read and study these verses to see what the Bible has to say about our faith, finances, and God's provision.
16

Seek first his kingdom and his righteousness, and all these things will be given to you as well.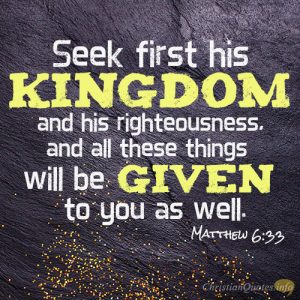 15

The blessing of the Lord makes rich, and he adds no sorrow with it.
14

For the Lord of hosts cares for his flock, the house of Judah, and will make them like his majestic steed in battle.
13

For he satisfies the longing soul, and the hungry soul he fills with good things.
12

And we know that in all things God works for the good of those who love him, who have been called according to his purpose.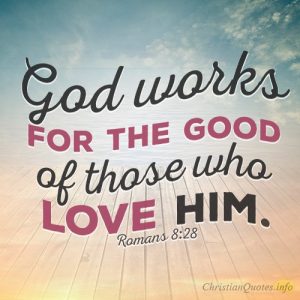 11

Trust in the Lord with all your heart, and do not lean on your own understanding. In all your ways acknowledge him, and he will make straight your paths.
10

His offspring will be mighty in the land, the generation of the upright will be blessed. Wealth and riches are in his house, and his righteousness endures forever. Light dawns in the darkness for the upright, he is gracious, merciful, and righteous.
9

As for the rich in this present age, charge them not to be haughty, nor to set their hopes on the uncertainty of riches, but on God, who richly provides us with everything to enjoy.
8

Cast all your anxiety on him because he cares for you.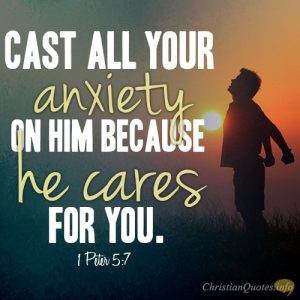 7

The Lord makes poor and makes rich, he brings low and he exalts. He raises up the poor from the dust, he lifts the needy from the ash heap to make them sit with princes and inherit a seat of honor.
6

The soul of the sluggard craves and gets nothing, while the soul of the diligent is richly supplied.
5

For you know the grace of our Lord Jesus Christ, that though he was rich, yet for your sake he became poor, so that you by his poverty might become rich.
4

Delight yourself in the LORD and he will give you the desires of your heart.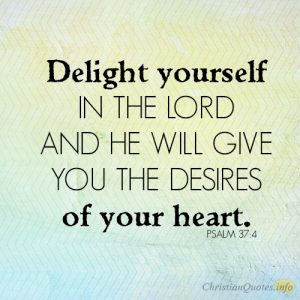 3

But he who was born of God protects him, and the evil one does not touch him.
2

If you then, who are evil, know how to give good gifts to your children, how much more will your Father who is in heaven give good things to those who ask him!
1

God will meet all your needs according to his glorious riches in Christ Jesus.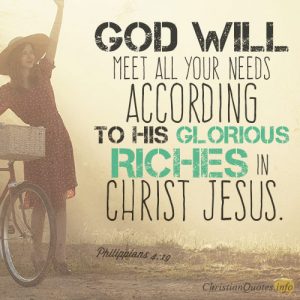 Whether you're struggling to pay your bills or just planning for retirement, trust God to take care of you and your family.
Get the Daily Quote in FB Messenger
Just click the button below and follow the instruction we send you.