13 Important Bible Verse Quotes About The Second Coming Of Christ
Jesus is coming again, and believer's live in eager expectation of this great event, so here are 13 important Bible verse quotes about the second coming of Jesus Christ.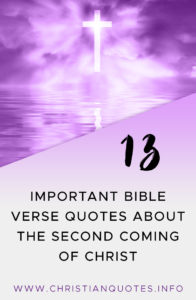 5 Stories From The Bible About The
Second

Coming

Of

Christ

Here are 5 stories from the Bible about the second coming of Christ.
Every Eye Will See Him
When Jesus comes again, it won't be a secret. All who are then living shall see the Son of Man return in all His full glory. The Apostle John said that all will see Him as "he is coming with the clouds, and every eye will see him, even those who pierced him, and all tribes of the earth will wail on account of him. Even so. Amen" (Revelation 1:7). Those who have believed will rejoice, but those who have rejected Him, will wail on account of His soon coming judgment (Revelation 20:12-15).
The Unexpected
Today is the day of salvation (2 Corinthians 6:2) because tomorrow has no guarantee of arriving for any of us, "Therefore you also must be ready, for the Son of Man is coming at an hour you do not expect" (Matthew 24:44). Many have given up. Many others scoff at His return or even His existence, but when He comes again, it will come suddenly, and at a time when most people don't expect it.
No One Knows When
Countless people throughout the ages have predicted Jesus arrival; some even naming the day and the hour, but Jesus tells us we can't know the day or the hour of His coming. The Lord said "concerning that day and hour no one knows, not even the angels of heaven, nor the Son, but the Father only" (Matthew 24:36). When someone sets a date for Jesus' return, remember that only the Father knows, and their not Him!
The Day of the Lord
Thieves don't advertise their coming. They come when nobody expects them, otherwise the residents would be ready for them, so in like manner, "the day of the Lord will come like a thief, and then the heavens will pass away with a roar, and the heavenly bodies will be burned up and dissolved, and the earth and the works that are done on it will be exposed" (2 Peter 3:10).
Preparing a Place
It's hard to imagine it right now, but Jesus is preparing a place for those who believe. What that "place" is exactly, we don't know. Some scholars see the word "place" as being an office or position, but we should take heart at what Jesus told the disciples. He said that "if I go and prepare a place for you, I will come again and will take you to myself, that where I am you may be also" (John 14:3).
I hope this helped you get more excited about Jesus' second coming. He is coming again, but we don't know when, so share Christ today with someone before He returns to judge the world.
Get the Daily Quote in FB Messenger
Just click the button below and follow the instruction we send you.