13 Helpful Bible Verses for When You Feel Like A Failure
The Bible has lots of examples of people failing, so here are 13 helpful Bible verses when you feel like a failure.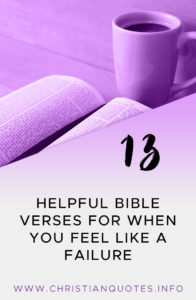 5 Stories From The Bible to Read When You
Feel

Like

A

Failure

Here are 5 short stories from the Bible to read when you feel like a failure.
Quieted by Love
Just when you feel you've reached the bottom, try to remember what God thought of ancient Israel's coming restoration. Now, think about how He feels about you. It says, "The LORD your God is in your midst, a mighty one who will save; he will rejoice over you with gladness; he will quiet you by his love; he will exult over you with loud singing" (Zephaniah 3:17).
The Latter Harvest
We are not doing the things commanded of Christ because of a sense of duty, but because we actually do these things for Christ Himself (Matthew 25:40), so we need to keep a biblical perspective and "not grow weary of doing good, for in due season we will reap, if we do not give up" (Galatians 6:9). Maybe what we think is a period in our life can become the comma that God can use for your own good in the future (Romans 8:28).
Died for Love
I don't know anyone who would die for multiple millions of ungodly, wicked enemies of God (Romans 5:6-10), but that's just what God did in Jesus Christ. In this way, "God shows his love for us in that while we were still sinners, Christ died for us" (Romans 5:8). Almost everyone looked at Jesus' death on the cross as the greatest failure ever, but in reality, it was the greatest triumph in all of human history (John 3:16).
God's Purpose
Sometimes we make mistakes just because we're human, so we need to learn to forgive ourselves. And, if we know enough about the sovereignty of God, "we know that for those who love God all things work together for good, for those who are called according to his purpose" (Romans 8:28). This "all things" means the good, the bad, and the ugly, so even our failures in life will work out according to His purpose, and just because we've failed at something, doesn't mean we're a failure!
A Helping Hand
I can't count the number of times I've stumbled, but so have many, many other saints in the Bible, but in time, they understood that "The steps of a man are established by the Lord, when he delights in his way; though he fall, he shall not be cast headlong, for the Lord upholds his hand" (Psalm 37:23-24). All of us have failed at one time or another, but the question is, "How do we respond to it?" For sure, we know the Lord's got us.
Maybe you can think of someone you can share these with. God loves us and has also given us the capacity to love others, so why not love others so that they might know who Jesus' disciples are?
Get the Daily Quote in FB Messenger
Just click the button below and follow the instruction we send you.