12 Helpful Bible Verse Quotes For Suicidal Friends Or Family Members
I hope you've never had to go through losing someone who committed suicide, but if you have, may God comfort you with His words in these Bible verses.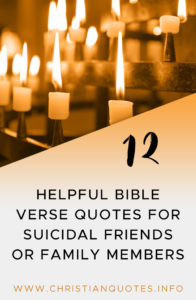 As painful as suicide is, God works out the worst things for our best (Gen 50:20; Rom 8:28), even when we don't understand it, so please share these with someone else who's gone through losing a loved one to suicide.
Get the Daily Quote in FB Messenger
Just click the button below and follow the instruction we send you.