21 Words Of Inspiration: Most Powerful Quotes from the Bible
The Bible is full of inspiring words. After all, it's directly the Words of God! God wants us to always feel inspired, encouraged, and lifted up by His words and His love. May these quotes inspire you today!
21
For you were called to freedom, brothers. Only do not use your freedom as an opportunity for the flesh, but through love serve one another.
- Galatians 5:13
20
O you who love the LORD, hate evil! He preserves the lives of his saints; he delivers them from the hand of the wicked.
- Psalm 97:10
19
for he who is mighty has done great things for me, and holy is his name.
- Luke 1:49
18
I have set the LORD always before me; because he is at my right hand, I shall not be shaken.
- Psalm 16:8
17
It is well with the man who deals generously and lends, who conducts his affairs with justice. For the righteous will never be moved, he will be remembered forever.
- Psalm 112:5-6
16
Honor the LORD with your wealth and with the firstfruits of all your produce; then your barns will be filled with plenty, and your vats will be bursting with wine.
- Proverbs 3:9-10
15
Submit yourselves therefore to God. Resist the devil, and he will flee from you.
- James 4:7
14
Charm is deceitful, and beauty is vain, but a woman who fears the LORD is to be praised.
- Proverbs 31:30
13
"Ask, and it will be given to you; seek, and you will find; knock, and it will be opened to you.
- Matthew 7:7
12
And he said to them, "Take care, and be on your guard against all covetousness, for one's life does not consist in the abundance of his possessions."
- Luke 12:15
11
For by grace you have been saved through faith. And this is not your own doing; it is the gift of God,
- Ephesians 2:8
10
Do you not know that you are God's temple and that God's Spirit dwells in you?
- 1 Corinthians 3:16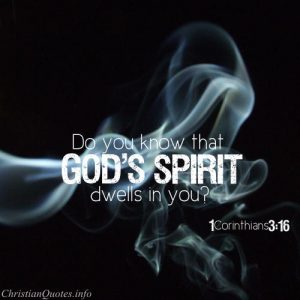 9
for I am with you, and no one will attack you to harm you, for I have many in this city who are my people."
- Acts 18:10
8
The LORD repay you for what you have done, and a full reward be given you by the LORD, the God of Israel, under whose wings you have come to take refuge!"
- Ruth 2:12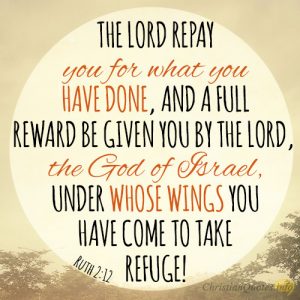 7
Blessed is the man who remains steadfast under trial, for when he has stood the test he will receive the crown of life, which God has promised to those who love him.
- James 1:12
6
I have been crucified with Christ. It is no longer I who live, but Christ who lives in me. And the life I now live in the flesh I live by faith in the Son of God, who loved me and gave himself for me.
- Galatians 2:20
5
Peace I leave with you; my peace I give to you. Not as the world gives do I give to you. Let not your hearts be troubled, neither let them be afraid.
- John 14:27
4
Behold, I stand at the door and knock. If anyone hears my voice and opens the door, I will come in to him and eat with him, and he with me.
- Revelation 3:20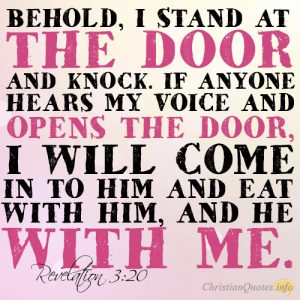 3
And my God will supply every need of yours according to his riches in glory in Christ Jesus.
- Philippians 4:19
Total Quotes Found: 21
What's your favorite inspiring verse from the Bible?
Get the Daily Quote in FB Messenger
Just click the button below and follow the instruction we send you.