19 Quotes From The Book Of Revelation – End Time Bible Verses
The Book of Revelation is unique, in that it describes a series of visions that may or may be taken literally. However literal the prophecies may or may not be, the point is clear: we live in a troubled world, but God is the ultimate victor.
Many verses in Revelation apply to life today, whether we are living in the midst of one of the prophecies or not. We are to live righteously, pleasing God, worshiping God, and knowing that through Jesus we have the ultimate victory. May you be encouraged and inspired by these 19 Quotes from the Book of Revelation!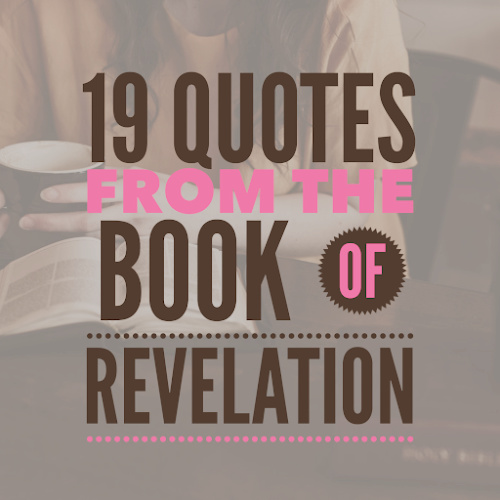 5 Short Stories From The Bible About The End Times
Here are 5 great Bible stories about the end times.
Not only do more people claim that God is a figment of our imagination, those who do believe in a god, believe He's not ever coming back again, but the Apostle Peter warned against such hard heartedness, saying "that scoffers will come in the last days with scoffing, following their own sinful desires. They will say, "Where is the promise of his coming? For ever since the fathers fell asleep, all things are continuing as they were from the beginning of creation" (2 Peter 3:3-4). Obviously, when Jesus does return, the world will mourn (Revelation 1:7), but we shall rejoice.
The Gospel Preached – Matthew 24
One of the most overlooked signs of Jesus' second coming is the gospel being preached throughout the world, and it's coming very close to that these days as missionaries have reached every continent and most of the deepest, darkest jungles, so His second coming may be closer than we realize. Jesus warned us that "this gospel of the kingdom will be proclaimed throughout the whole world as a testimony to all nations, and then the end will come" (Matthew 24:14). When the last person who God is calling hears the gospel, "then the end will come."
Since none of us know the day or hour of Jesus' return, we ought to be ready today and every day. Those who are waiting to clean up their lives before coming to Christ are making a terrible mistake. They can't do this on their own (John 15:5). They must repent and believe on the Lord today, and they "must be ready, for the Son of Man is coming at an hour you do not expect" (Matthew 24:44). That's why we must "stay awake, for you do not know on what day your Lord is coming" (Matthew 24:42).
It's not hard to see that our world is getting more sinful every day. Just a few years ago, words you'd never hear on TV are now said casually. What was once said in private is now repeated in public. Sexually explicit images are "normal" today, but just a few years ago, they were banned by the FCC, so the Apostle Paul wants us to realize "that in the last days there will come times of difficulty. For people will be lovers of self, lovers of money, proud, arrogant, abusive, disobedient to their parents, ungrateful, unholy" (2 Timothy 3:1-2). Seems like when we're watching the nightly news and seeing all the evil in the world, like lovers of self, greedy, arrogant, and unholy people, we're literally seeing Paul's words come to pass.
Departing from the Faith – Hebrew 1
Not only is church attendance dwindling, but so are those who hold fast to the faith once delivered (Hebrew 1:1-2; Jude 1:3). This is why we must hold firmly onto the faith once delivered, and not those teachings still "being delivered." If it's new, it's not from God; if it's from God, it's no new, so it's not surprising to the Apostle Paul that "the Spirit expressly says that in later times some will depart from the faith by devoting themselves to deceitful spirits and teachings of demons" (1 Timothy 4:1).
It Will Get Better…
Matthew 24 may be one of the best chapters about the end times. Jesus goes through what society will look like and what will happen to the faithful witnesses for Christ. It will only get worse before it gets much, much better…but it will. We have God's promise on that (Revelation 21:4).
What is your favorite verse from Revelation? How are you applying these prophecies and instructions to your everyday life?
16 Bible Quotes about Encouraging Children
19 Wonderful Quotes about Baptism
Get the Daily Quote in FB Messenger
Just click the button below and follow the instruction we send you.