18 Quotes From The Book Of Daniel: Old Testament Bible Quotations
Daniel was a Jew who lived in captivity, but because of his faith in God he met with success even while living in a foreign land. His unwavering faith in God and his prophetic visions gave the nation of Israel hope that God still cared about them. May these Old Testament quotes remind you that God is the same yesterday, today, and forever!
18

Blessed be the name of God forever and ever, to whom belong wisdom and might.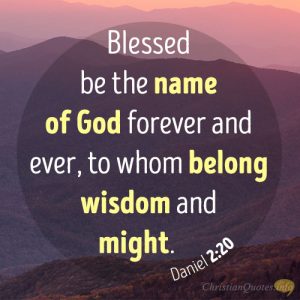 17

O Lord, hear, O Lord, forgive. O Lord, pay attention and act. Delay not, for your own sake, O my God, because your city and your people are called by your name.
16

But Daniel resolved that he would not defile himself with the king's food, or with the wine that he drank.
15

I blessed the Most High, and praised and honored him who lives forever, for his dominion is an everlasting dominion, and his kingdom endures from generation to generation.
14

O man greatly loved, fear not, peace be with you, be strong and of good courage.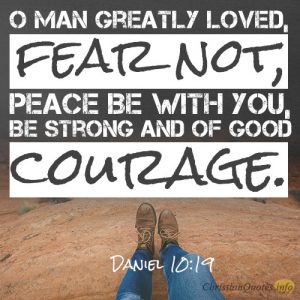 13

But there is a God in heaven who reveals mysteries…
12

And in the days of those kings the God of heaven will set up a kingdom that shall never be destroyed, nor shall the kingdom be left to another people.
11

As for these four youths, God gave them learning and skill in all literature and wisdom, and Daniel had understanding in all visions and dreams.
10

His dominion is an everlasting dominion, which shall not pass away, and his kingdom one that shall not be destroyed.
9

If this be so, our God whom we serve is able to deliver us from the burning fiery furnace, and he will deliver us out of your hand
8

To you, O God of my fathers, I give thanks and praise, for you have given me wisdom and might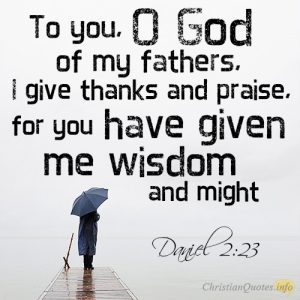 7

The king declared to Daniel, May your God, whom you serve continually, deliver you!
6

But the saints of the Most High shall receive the kingdom and possess the kingdom forever, forever and ever.
5

Break off your sins by practicing righteousness, and your iniquities by showing mercy to the oppressed, that there may perhaps be a lengthening of your prosperity.
4

Peace be multiplied to you! It has seemed good to me to show the signs and wonders that the Most High God has done for me.
3

But they could find no ground for complaint or any fault, because he was faithful, and no error or fault was found in him.
2

Then Daniel replied with prudence and discretion…
1

And those who are wise shall shine like the brightness of the sky above, and those who turn many to righteousness, like the stars forever and ever.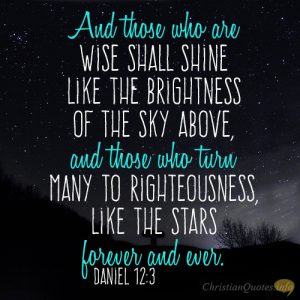 What are some of your favorite Old Testament verses about the promises of God?
Get the Daily Quote in FB Messenger
Just click the button below and follow the instruction we send you.