18 Jesus Quotes – Words and Teachings Of Jesus From The Bible
Every word in the Bible is from God, as He spoke through old testament prophets and new testament Christians. However, the four Gospels are unique because we get to read Jesus' actual words that He spoke while He was here on earth. His words teach us how to live, how to pray, and how to share His love with others. May you be inspired today by these word of Jesus!
18
And when Jesus heard it, he said to them, "Those who are well have no need of a physician, but those who are sick. I came not to call the righteous, but sinners."
- Mark 2:17
17
I am the vine; you are the branches. Whoever abides in me and I in him, he it is that bears much fruit, for apart from me you can do nothing.
- John 15:5
16
Jesus said to them again, "Peace be with you. As the Father has sent me, even so I am sending you."
- John 20:21
15
But not so with you. Rather, let the greatest among you become as the youngest, and the leader as one who serves.
- Luke 22:26
14
"The kingdom of heaven is like treasure hidden in a field, which a man found and covered up. Then in his joy he goes and sells all that he has and buys that field.
- Matthew 13:44
13
But overhearing what they said, Jesus said to the ruler of the synagogue, "Do not fear, only believe."
- Mark 5:36
12
Therefore I tell you, do not be anxious about your life, what you will eat, nor about your body, what you will put on. For life is more than food, and the body more than clothing. Consider the ravens: they neither sow nor reap, they have neither storehouse nor barn, and yet God feeds them. Of how much more value are you than the birds!
- Luke 12:22-24
11
The Sabbath was made for man, not man for the Sabbath. So the Son of Man is lord even of the Sabbath.
- Mark 2:27-28
10
Whoever does not take his cross and follow me is not worthy of me. Whoever finds his life will lose it, and whoever loses his life for my sake will find it.
- Matthew 10:38-39
9
O righteous Father, even though the world does not know you, I know you, and these know that you have sent me. I made known to them your name
- John 17:25-26
8
There is nothing outside a person that by going into him can defile him, but the things that come out of a person are what defile him."
- Mark 7:15
7
give, and it will be given to you. Good measure, pressed down, shaken together, running over, will be put into your lap. For with the measure you use it will be measured back to you."
- Luke 6:38
6
And he said to him, "You shall love the Lord your God with all your heart and with all your soul and with all your mind.
- Matthew 22:37
5
Behold, I have given you authority to tread on serpents and scorpions, and over all the power of the enemy, and nothing shall hurt you.
- Luke 10:19
4
Truly, truly, I say to you, whoever hears my word and believes him who sent me has eternal life. He does not come into judgment, but has passed from death to life.
- John 5:24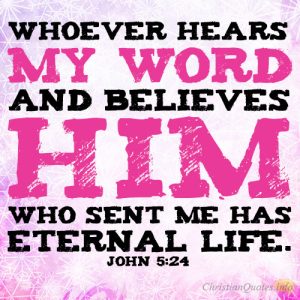 3
Jesus said to him, "I am the way, and the truth, and the life. No one comes to the Father except through me.
- John 14:6
2
Peace I leave with you; my peace I give to you. Not as the world gives do I give to you. Let not your hearts be troubled, neither let them be afraid.
- John 14:27
Total Quotes Found: 18
Which words of Jesus resonate with you today? How can you apply his teachings to your life?
Get the Daily Quote in FB Messenger
Just click the button below and follow the instruction we send you.