It's a new year, and I have new goals. Five minutes a day with my daily Guideposts devotional, learning more about Christ, and learning to see Him in my everyday life. Who's with me?
Too Busy for God?
What's your plan for spending time with God in 2019? I know, I know. You're thinking how could I possibly have a plan for that right now? There are cards to send and presents to wrap and parties to attend and cookies to make! The kids are out of school or soon will be and there's just no time to think about my quiet time. Look, I get it, believe me I do. The Christmas season is stressful. While we go through Advent anticipating our Savior's birth, we are bombarded with so much more. And even once the season is over and the New Year begins, we are busy. Often times, we are too busy. We fill our schedules to the max, and even when we want to cut back, we have trouble choosing what we could possibly take off the weekly agenda. At least I do. But I want to challenge myself to commit to daily quiet time with God in 2019. Sometimes, it gets brushed aside in my life for something I deem "more demanding and necessary." And too often even when I make the time for it, it's right before bed, at my most tired, where I barely stay awake to pray. I want to do better. And I'll bet there's a lot of you out there with similar desires. Thankfully, Guideposts has a devotional book that makes it easier for busy people like me. Their Daily Guideposts 2019 devotional books have devotional readings for each day of the year, making it easy to stay on track, and easy to tell when you've gotten off track.
Is Quiet Time Really THAT Important?
Maybe you're thinking you're still too busy. Maybe you're thinking you go to church every week, and even to small group mid-week, and maybe even listen to Christian radio. That's enough, right? This is my life each week. I do all those things, and read Bible stories to my kids before bed. And I often find myself thinking that I constantly surround myself with "Godly things," so it's ok if I don't make time for devotions. But lately, I've been thinking that while all those things are good, they don't always do a whole lot for my personal relationship with Christ. Meeting with a body of believers if important, and Biblical, but it's the personal time with spend with God that really matters. Hebrews 12: 1-3 says "let us run with perseverance the race marked out for us. Let us fix our eyes on Jesus, the author and perfecter of our faith." The Bible teaches that we need to fix our eyes on Jesus. Just like runners in a race, we need to focus on the race ahead of us, and the end goal of heaven. Pursuing Jesus as the biggest and best prize we could think of. Do runners just enter the Olympics without training? Obviously not. Devotions help us to build perseverance in our faith. They train us. We learn more about Christ. Who He is, what He did for us, and what He wants from us. We become stronger, and find it easier to fight the daily spiritual battles we all face. Guideposts knows how important quiet time with God is for our spiritual "athleticism," and they make it easy with quick, convenient, meaningful devotions that you can do every day without ever having to look for a new study to try, or figure out what book in the Bible you should look at today. Daily Guideposts 2019 centers on the theme "In the Shadow of Your Wings," based on Psalm 91:4, and is filled with brand-new devotions from fifty writers. This year's book provides a Scripture verse, along with a true story about how God speaks to us in the ordinary events of life. It also includes a prayer and some extra scriptures if you've got the time. It will take about five minutes of your time each day. Which is perfect for my busy schedule. I love the theme too. I LOVE real-life stories from believers. I love hearing about how God is working every day, in big and small ways. So I'm really excited by this theme, and the ways I know God will use it in my life.
2019 – A New Year with New Goals
Is my relationship with God worth five minutes a day? It's a question I would automatically answer yes to with no hesitation if I were asked this by someone. But when I really think about it honestly, I have to decide where my priorities lie. Is it more important that I get the dishwasher emptied before I run off to work, or that I spend a few moments alone with God? Sometimes, my perfectionist nature gets in the way of who I really want to be – a friend of God. Sometimes, I do that "one extra chore" in lieu of my quiet time. While New Year's resolutions are often broken, Guideposts is making it easier for me to keep mine. It's a new year, and I have new goals. Five minutes a day with my daily Guideposts devotional, learning more about Christ, and learning to see Him in my everyday life. Who's with me? Will you challenge yourself to more time with God? Can you carve out five minutes a day to become the spiritual athlete God created you to be? Let's do this together. If we do, I believe 2019 will be a whole lot brighter.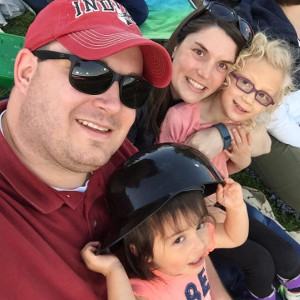 Julie McConnell
Julie is a life-long Hoosier, wife, and mother of two. When she is not working in her pharmacy, she spends her time with her husband and daughters in Indianapolis. She is a member of Geist Christian Church and enjoys playing outside with her girls, finding fun things to do in Indy, watching football, and reading bedtime stories.